Text messaging is a more popular way to communicate on smartphones than standard voice calls. Last year, 97 percent of American smartphone owners said they use their device to text, compared to 93 percent who use it to make voice or video calls, per a report from the Pew Research Center.
Cola Messenger, a new iOS app that launched on Thursday, gets this. Its aim is to introduce a slew of convenient features to the texting experience, transforming how you're able to communicate without, you know, having to call anyone.
"The devices we call 'phones' are, in reality, messaging devices," David Temkin, Cola Messenger's CEO, told The Huffington Post.
Here's how the app works: When you're in a text conversation with an individual or group, you can use functions like "When Can We Meet?" "Where Are You Now?" and "Quick Poll" to generate an interactive experience for your contacts.
For example, If you're trying to set up a movie date, use the "When Can We Meet?" function, and anyone involved in your conversation will be able to select a time that works for them. When you send the invitation, you'll be able to mark up to five times that work for you, to give your friends options.
If you send a "Where Are You Now?" message, the recipient will be able to share their location for a certain amount of time, basically giving you permission to track them for, say, 30 minutes. You won't get notifications about their movements, but you'll be able to pull up the map at will and see where your contacts are. That'll help if you're freaking out about missing a reservation or what have you.
Here's what that feature looks like: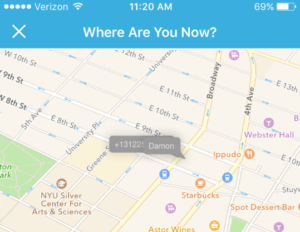 All this is neat but kind of useless if everyone has to download Cola Messenger — because even if you do, there's no guarantee your friends will. Fortunately, they don't have to.
If you send a Cola message to somebody who doesn't have the app, they'll receive it like a normal text message with a short URL that will take them to an external website, where they'll be able to interact with Cola functions.
For example, we tried to send a Cola message to an Android user, since the app is currently iOS only. It wasn't super elegant, but this is what happened: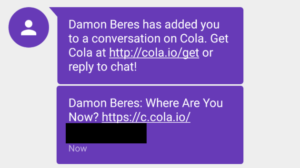 The Android user was able to click the link and share his location. While the original Cola Messenger user wasn't notified when the new location was added, the map did update — so it basically worked as promised.
Temkin said his team wanted to "make it possible for someone to see the value in the product without asking them to download the app."
Note that you'll want to be a little careful about sharing your location in this way. As mentioned, you have to tap on a URL to share this data if you're not using the app. In theory, you could copy and paste that URL to anyone, and they would be able to track you and your friends via any web browser.
That seems a little paranoid, but just remember that you shouldn't share any information with people you don't trust. If you're very anxious about having this type of data online, don't share it, period.
Cola's limited right now, but there's more coming. In the near future, Cola Messenger will open up its software development kit, so others will be able to create new functionalities. And Temkin said an Android version is coming soon.
To be clear, this isn't the only messaging app out there with cool interactive features. There are plenty of competitors. But it's got a pretty serious pedigree: Temkin came from AOL and, before that, Apple, where he worked on the Newton. Other members of the Cola team helped develop the iPhone and Adobe Photoshop.
You can check out Cola Messenger on iTunes now.
AOL is The Huffington Post's parent company. HuffPost continues to operate and report independently on all things technology.
Source: Cola messenger is like text messaging on steroids, Huffington Post, March 10, 2016